List of All Possible Sports in the World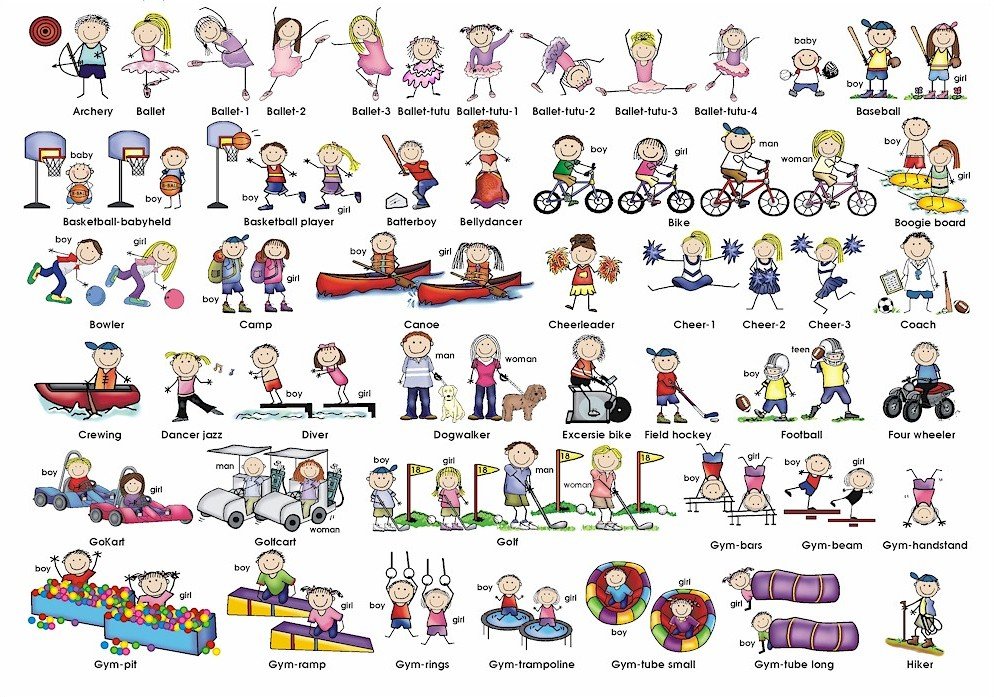 Over the centuries, there are a lot of sports designed to keep the man busy and fit. Many sports are not known and have never heard of.
There are not very well known sports that are still here and there.
Most famous sports that everyone knows such as cricket, football, tennis and ice skating. Whichever sport you can think of; you'll find it below!
Always want to know how many sports are being played in the world?
Here you will find a list of all kinds of possible sports!
List of sports:
1. Acrobatic Rock 'n Roll
2. Acrogym
3. Aerobics
4. Aikido
5. American Football
6. American Kenpo
7. American Wrestling
8. Australian Football
9. Autosport
10. Badminton
11. Ballet
12. Ballooning
13. Bench press
14. Baseball
15. Basketball
16. Mountain walking
17. Biathlon
18. Billiards
19. BMX
20. Bobsleigh
21. Bocce
22. Boccia
23. Bodybuilding
24. Boxing
25. Boogie Woogie
26. Archery
27. Bowling
28. Bowls
29. Brazilian Jiu Jitsu
30. Breakdance
31. Bridge
32. Buggieën
33. Capoeira
34. Carom
35. Clip Dance
36. Cricket
37. Curling
38. Dams
39. Darts
40. Hang Gliding
41. Discus Throw
42. Harness racing
43. Dressage
44. Duathlon
45. Diving
46. Pigeon
47. Endurance
48. Enventing
49. Eskrima
50. Esport
51. Fierljeppen
52. Fitness
53. Flyboarden
54 Foot Wave
55. Formula 1
56. Freediving
57. Free Fight
58. Futsal
59. Geocaching
60. Weightlifting
61. Goat Ball
62. Golf
63. Surfing
64. Hammer Throw
65. Handball
66. Handcycling
67. Hankido
68. hankumdo
69. Hapkido
70. Running
71. triple jump
72. Hockey
73. Baseball
74. High jump
75. Hurdling
76. Horse Ball
77. Horse Ball
78. Hurling
79. Ice Hockey
80. Inline Hockey
81. Jazz Dance
82. Boules
83. Jujutsu
84. Judo
85. Bounce
86. Kayaking
87. Kajukenbo
88. Canoeing
89. Karate
90. Karting
91. Kasti
92. Bowling
93. Kempo
94. Kendo
95. Kenjutsu
96. Kenpo
97. Kickboxing
98. Kitesurfing
99. Clay Pigeon Shooting
100. Cliff Diving
101. Climbing
102. Klootschieten
103. Hammer Throw
104. Shot Put
105. Korfball
106. Powerball
107. Krav
108. maga
109. Kung Fu
110. Figure Skating
111. Lacrosse
112. Long-distance walking
113. Cross-country skiing
114. Linedance
115. Majorette
116. Marathon Running
117. Midget Gold
118. Military Moantainbike
119. Mud Wrestling
120. Modern Dance
121. Mogul
122. Motocross
123. Motorsport
124. Engine Flying
125. Muay Thai
126. Netball
127. Ninchaku-do
128. Ninjitsu
129. Nordig Walking
130. Underwater Hockey
131. Orienteering
132. Paaldansen
133. Pole Throwing
134. Horse Racing
135. Paintball
136. Parachuting
137. Paragliding
138. Parkour
139. Pencak Silat
140. Boules
141. Poker
142. Polo
143. Pole Vault
144. Pool
145. Powerlifting
146. Prick Tobogganing
147. Puzzling
148. Quad
149. Rugby
150. Racketlon
151. Racquetball
152. Reining
153. Rhönrad
154. Luge
155. Rowing
156. Roller Hockey
157. Roller Soccer
158. Wheelchair Basketball
159. Wheelchair Curling
160. Rope Skipping
161. Rounders
162. Rugby
163. Skating
164. Chess
165. Ski Jumping
166. Screens
167. Shooting
168. Diving
169. Shaolin
170. Sumo Wrestling
171. Short Track
172. Skateboarding
173. skating
174. skating
175. Skeleton
176. Skiing
177. strike
178. Sledge Hockey
179. Race Walking
180. Snooker
181. Snorkelling
182. Snowboarding
183. Softball
184. Speedboat racing
185. Speed Skiing
186. Spearfishing
187. Javelin
188. Spinning
189. Jumping
190. Sprint Squash
191. Step Dance
192. Scooters
193. Style Dance
194. Streetdance
195. Sudoku
196. Survival
197. Synschroonzwemmen
198. Tae Bo
199. Taekwondo
200. Table tennis
201. Foosball
202. Tai Chi
203. Tai-jutsu
204. Tangsudo
205. Tennis
206. Thai Boxing
207. Decathlon
208. Touwtrekken
209. Trampolinesptingen
210. Dodgeball
211. Trial
212. Triathlon
213. Trick Kiten
214. Gymnastics
215. Ultimate Frisbee
216. Floorball
217. Parachuting
218. Cyclo
219. Versrpingen
220. Through Feratta
221. Four on one row
222. Fishing
223. Kite Sports
224. Football
225. Volleyball
226. Vaulting
227. Free Diving
228. Wakeboarding
229. Climbing Wall
230. water basketball
231. Water Polo
232. Waterskiing
233. Wheel Barro Wing
234. wheeling
235. Cycling
236. Windsurfing
237. Wing Chun
238. Wrestling
239. Hall Sports
240. Futsal
241. Sailing
242. Sail Fly
243. Heptathlon
244. Zumba
245. Swordplay
246. Gliding
247. Swimming