Dings Break put OSullivan Selby aside in Welsh Open Snooker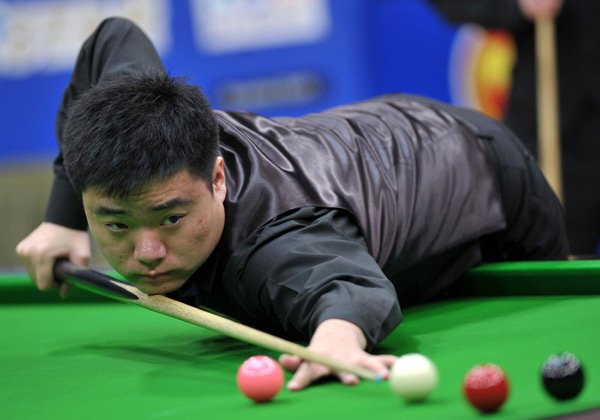 Ding Junhui (WS-12) in Cardiff has a 147 maximum break pottage in the quarter-finals of the Welsh Open snooker. Nevertheless, the 28-year-old Chinese was eliminated 5-2 by Australian Neil Robertson (WS-3).
In a 4-1 deficit fifteen times Ding potted red and black, plus all the colors away. Only the colors he got into trouble, but he did the job in a sublime way. It is the sixth 147 Thing, in the eighth finals Luca Brecel (WS-28) struckout 4-2. Only Ronnie O'Sullivan (13 maximums), Stephen Hendry (11) and John Higgins (7) do better.
The 117th maximum break in snooker history, the third this season, brings Thing 12,000 pounds (13,000 euros) on. "Not enough," concluded O'Sullivan (WS-5) earlier this week. He left intentionally lie a 147 maximum. "The Rocket" pottering once pink instead of black and came to 146.
On Friday O'Sullivan placed himself in a masterly way to the semifinals. The Masters champion put the world number one Mark Selby 5-1 aside. Selby won the first frame with a 102 century. Next was O'Sullivan with breaks of 93, 57, 61, 75 and 132 master.
In the semi-finals (best of 11) O'Sullivan takes it Saturday against the winner of the match between Joe Perry (WS-10) and Ben Woollaston (WS-31) on. Robertson takes the Northern Irishman Mark Allen (WS-9) or the Welshman Michael White (WS-17).
O'Sullivan to win the tournament in order to play the World Grand Prix in Llandundo (in the top 32 on the Order of Merit of the season) next month. Otherwise he will not be at the World Cup in April into action again. With only three frames lost in five games it already looks good.
"Of course I have a shot at the title. It would be a bit ridiculous if I would explain something else, "O'Sullivan responded.
"But Neil Robertson is the man to beat now. He is good in every part of the game, as Steve Davis in the eighties and Stephen Hendry in the nineties. He is very disciplined and always maintain the same high level. To defeat him, it should be very good. "