London Fire: It would be a Miracle to Find Survivors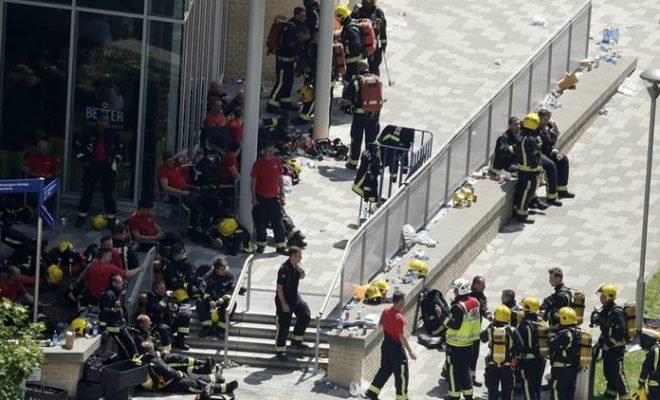 London Fire: It would be a Miracle to Find Survivors. The record of the victims of the Great Fire at the Grenfell Tower in London is getting worse. More than 24 hours after the burning of a social housing tower in the western district of Kensington, the number of victims has increased from 12 to 17, the police said on 15 June. The fire also killed nearly 80 people, posted by The Greater.
"I can, unfortunately, confirm that 17 people died," said Stuart Cundy, commander of the Metropolitan Police. While many missing persons are still sought after, the balance sheet is likely to increase. Earlier, Fire Chief Dany Cotton said it would be "a miracle to find survivors" in the building, pointing out on SkyNews that the fire and heat left little chance for people who Could not escape from the brazier.
Whole families have not given any sign of life, media reports evoking dozens of people still missing since this massive fire that burned the 24-storey tower on Tuesday night. According to the firefighters, the research could take weeks due to the instability of the tower and in particular floors.
On June 15, Theresa May announced that she was calling for a public inquiry. This initiative, aimed at shedding light on the circumstances of the tragedy and the role of the authorities, is necessary to ensure an "in-depth investigation … on this tragedy", she said.
The fire began on Wednesday, June 14, just before 1 am, in the 24-storey building, built in 1974 and was extinguished more than 24 hours later by the 200 firefighters sent to the scene. Many people, trapped in the floors, were forced to jump through the windows. A mother even resigned herself to throwing her baby out of the tower. It was miraculously recovered in time by a neighbor.
Elizabeth II issued a statement on June 15 to express support for the victims. "My thoughts and prayers go to families who have lost loved ones in the burning of the Grenfell Tower and the many people who still suffer from their injuries in the hospital."
Prince Philip and I would like to pay tribute to the courage of the Firefighters and other emergency service workers who risk their lives for the lives of others, and it is encouraging to see the incredible generosity of community volunteers who are mobilizing to help those affected by this terrible event.
The singer Adele went to the scene, during a vigil in tribute to the victims, to comfort the people affected by the drama. Artist Rita Ora, who used to play in this "block" when she was small, also said she was shocked by the tragic incident.