North Korea is Worried about US Attitude on Nuclear Weapons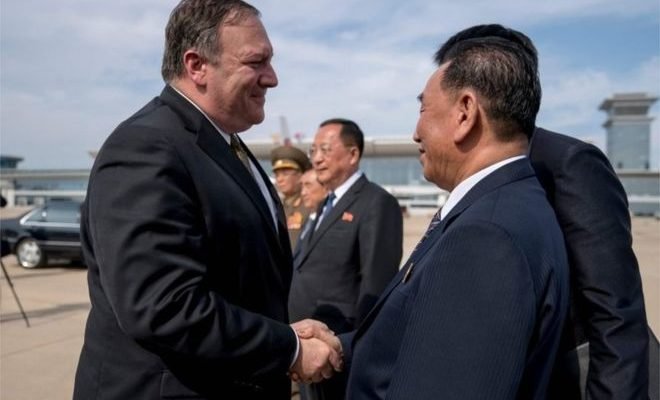 North Korea is Worried about US Attitude on Nuclear Weapons. Talks between North Korea and the US did not go smoothly.
At least that is what North Korea thinks, which calls the attitude of the US 'regrettable'. The US Secretary of State was satisfied.
North Korea has pushed hard to the Americans 'who are trying to force North Korea to denucleate unilaterally'. In a statement, the communist country says that it wants to give up nuclear weapons only if the US does so.
The reaction of the North Koreans is in contrast with that of Mike Pompeo, the US Secretary of State. He said after the talks that he was satisfied because progress had been made 'on almost all important issues'.
Pompeo said after a day and a half of talks in Pyongyang that both parties talk about the repatriation of the remains of Americans who died in the Korean War (1950-1953). He also discussed the 'possibilities' for dismantling an installation to test rocket engines.
"I think we have made progress on every part of our discussions," he told reporters. "These are complicated issues, and in some areas we have made a lot of progress on other issues, there is still more work to do."
Before he left North Korea to travel to Tokyo, Pompeo shook hands with his interlocutor, Kim Yong-Chol. This North Korean party official played a key role on June 12 in Singapore between US President Donald Trump and North Korean leader Kim Jong-un.
Trump promises better relations and the lifting of sanctions against North Korea if that country cancels its nuclear program and no longer develops nuclear weapons. The North Korean dictator Kim Jong-un seems interested, under pressure from the enormous economic problems of his isolated country.