Trump would like to Shake Hands with Kim Jong-un on the Korean Border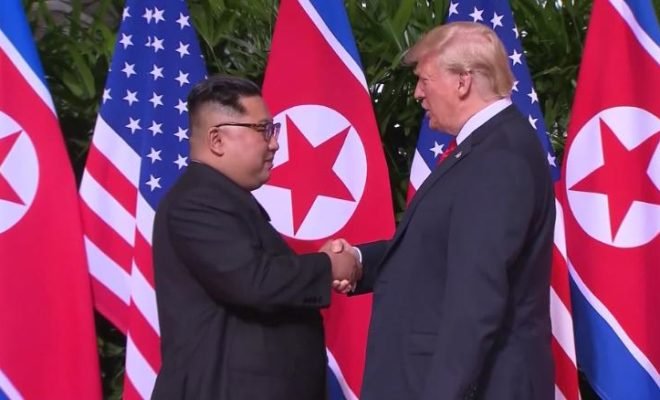 US President Donald Trump would soon like to visit the Korean demilitarized zone to shake hands with North Korean leader Kim Jong-un. He writes that in a message on Twitter that he sent during his stay in Osaka, Japan, where a G20 summit is currently being held.
"After several essential meetings, including my meeting with President Xi of China, I will leave Japan for South Korea (with President Moon).
While I am there, provided that President Kim of North Korea sees this, I would like to meet him at the border / DMZ (demilitarized zone) to shake his hand and say hello (?)! ", Trump said.
A few hours later, the spontaneous tweet was reacted from North Korea. "We see it as a fascinating suggestion, but we have not received an official proposal," the Korean state news agency KCNA quotes the foreign minister, Choe Son-hui.
The United States and North Korea are negotiating the core program of the isolated regime in Pyongyang. Trump demands the complete dismantling of nuclear weapons and ballistic missiles that can be equipped with a warhead.
Earlier this week, South Korean President Moon Jae-in reported that a third summit between the two countries is being worked on behind the scenes. The previous two meetings between Trump and Kim yielded little concrete.
According to the South-Korean news agency Yonhap, Trump reports to Seoul today and speaks with Moon Jae-in a day later.
Trump also announced this morning – after his conversation with Chinese leader Xi Jinping – that the US and China are once again entering into a trade agreement. Both countries decided to do this after the negotiations were terminated last month.
According to the Chinese news agency Xinhua, the United States has promised not to introduce any new import tariffs on Chinese products.
Before the conversation, Trump expressed the hope that the two countries would come closer to an agreement. "I think this will be a very productive meeting and I think we can achieve something that will be big."
The two largest economies have been waging a bitter trade war for a year that is slowing the economic growth of both countries and damaging the world economy. Before the conversation, Trump expressed the hope that the two countries would come closer to an agreement.
The resumption of negotiations will temporarily reassure investors and markets worldwide. Experts, however, assume that the talks will remain tough so that a settlement of the trade war can still be far away.