Theresa May would Start Preparing No Deal Brexit in September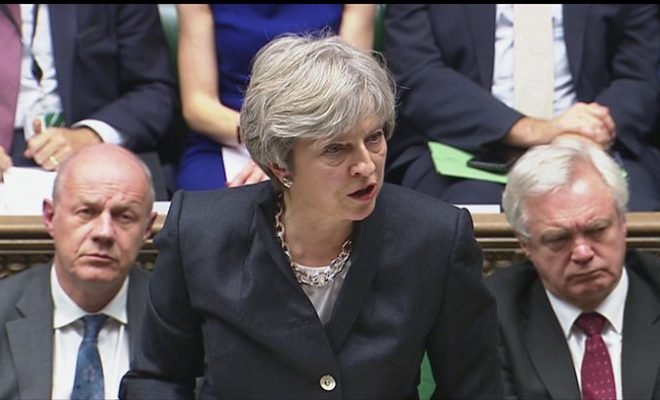 British Prime Minister Theresa May is preparing the preparations for a Brexit without a negotiated agreement with the European Union.
According to the news agency Bloomberg, she is planning a government meeting in September about how the United Kingdom can prepare such a 'no deal' Brexit.
The European and British negotiators have only a few months to conclude a Brexit agreement. The text has to be ratified before the British departure from the EU on March 30, 2019. To say that the negotiations are rigid is an understatement and a Brexit without agreement is not imaginary.
To prepare her country for such a worst-case scenario, according to insiders, May would like to convene its government summit after the summer recess. In the meantime, a working group would examine how border controls between Northern Ireland, belonging to the UK, and the Irish Republic can be avoided in the case of a 'no deal'.
Avoiding such controls and establishing a framework for future British-European trade relations are the main bottlenecks in the ongoing negotiations. Last month, the chief European negotiator Michel Barnier said that the EU does not intend, as the May government proposes, to "delegate the application of its customs policy, its rules and the collection of VAT and excise duties to a non-member country". ".
That the 'no deal' scenario in the minds of British government members is evident. At the beginning of this week, Minister of International Trade Liam Fox said that there is a probability of 60 percent that no agreement will be reached. "I think that the intransigence of the European Commission leads us to the exit without agreement", the minister said.
By re-proposing the possibility of a Brexit without agreement, the government seems to be increasingly behaving according to the will of the 'hard Brexit' faction of the Conservative Party. Since the start of the Brexit negotiations, one of the famous slogans in hard Brexiters is: "Better no deal than a bad deal."
Within the British government, it is hoped to force the European Commission to reach a favourable agreement by putting the no-deal scenario first. Just like the UK, Europe would also suffer economically under a Brexit without agreement. Many observers consider the 'no deal' option as part of a game of bluff poker.
Despite the firm suggestions of the last days and the resignation of the former British Brexit Minister David Davis and Foreign Minister Boris Johnson, Barnier and the new Brexit Minister Dominic Raab continue to insist that they want to conclude a deal by October. Raab said at the end of July that the UK had to prepare for the possibility that no agreement would be reached.