Putin: No Evidence of Russian Involvement in Bringing Down MH17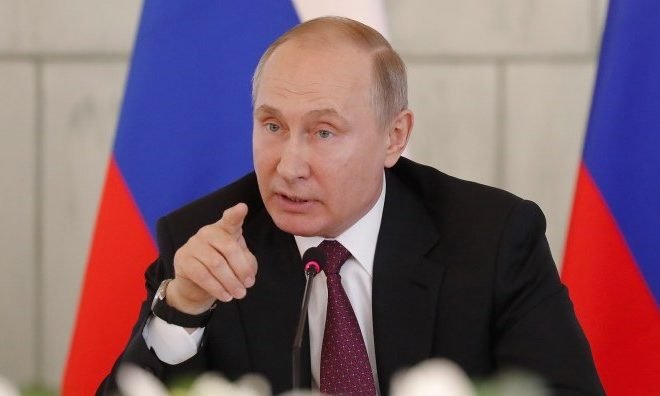 Putin: No Evidence of Russian Involvement in Bringing Down MH17
Russian President Vladimir Putin today responded to the new evidence presented yesterday by the Joint Investigation Team (JIT) that points to Russian involvement in the downing of flight MH17. It's not true. We do not agree.
Yesterday, the JIT announced that it is prosecuting three Russians and one Ukrainian for involvement in the downing of MH17 in 2014. Those charges are based, among other things, on overheard telephone conversations. The JIT only released a small part of the evidence yesterday, the rest "being kept in court."
Putin wiped all the burden of proof off the table in one go today. "There is no evidence of Russian involvement."
The Russian made the statements shortly after his annual – tightly directed – television appearance where dozens of people in the country can contact them to ask their president a question.
This year it mainly concerned the economic situation of the country. Many Russians are angry about the in their eyes deteriorated living conditions that they are dealing with.
Yesterday overheard telephone conversations were brought out that seem to indicate the direct involvement of the Kremlin in arms deliveries to the pro-Russian rebels in Ukraine.
In one of the conversations that were played, Vladislav Surkov can be heard: he was Deputy Prime Minister of Russia for two years and is still an adviser to President Putin.
Soerkov is in conversation with former separatist leader Aleksandr Borodaj. According to the JIT, the interview was recorded on Friday before flight MH17 was shot off the air on 17 July 2014.
At the time, it looked terrible for the separatists, who had proclaimed the Donetsk People's Republic in Eastern Ukraine. They were surrounded by Ukrainian troops who wanted to reclaim the area. Borodaj and his army staff called Russia several times to get urgent military support.
Earlier today, Borodaj called the recorded phone call fake. There cannot be any authenticity here, and the recording is not real. Such a thing has never happened; it is fake, "he told the Russian news agency Interfax.
While this response from Russia was somewhat to be expected, the Prime Minister of Malaysia – the country that is also a member of the JIT and lost several inhabitants in the MH17 disaster – also sharply criticized the latest findings of the international investigation team.
Mahathir Mohamad concluded that the new findings are "nothing but hearing". Prime Minister Rutte calls the criticism of his Malaysian colleague "disappointing".
Minister Ferd Grapperhaus (Justice and Security) believes that the chances are that "disinformation" will try to "disrupt" the MH17 process. "Don't be fooled, look at the facts," he warned today in the Lower House.
Grapperhaus did not become concrete about what disinformation he fears and from whom it might come. Grapperhaus fears that in the coming period, an attempt will be made to undermine the democratic rule of law and an independent judiciary.