Erdogan Wants to Expand Military Operations in Syria and Iraq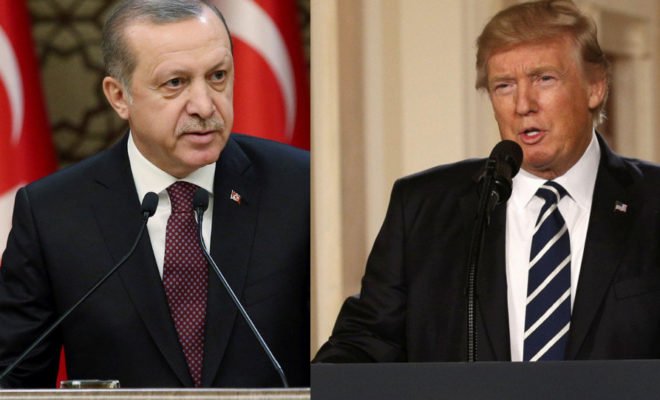 The Turkish president Recep Tayyip Erdogan wants to expand the Turkish army's cross-border operations in Iraq and Syria. This announcement may aggravate the crisis with the US.
He will "drain the source of the threat" for his country. That is what Erdogan said today during the party conference of his Islamist conservative AK party in Ankara.
This announcement may aggravate the crisis with the US. In northern Syria, American-backed fighters and Turkish troops face each other. Washington supports Kurdish groups there, which have achieved great success against the Islamic State. They control an area of ​​hundreds of kilometres along the border.
Turkey, however, sees the units under the leadership of the YPG group at its border as a Syrian branch of the banned Kurdistan Workers' Party PKK. Twice it has already invaded the northwest of Syria with pro-Turkish rebels and captured Kurdish territory, as in the Afrin region, for example.
Ankara is also in dispute with the Kurds in Iraq. Turkish soldiers are operating in northern Iraq, where the PKK dissolves. In September last year, the North Iraqi Kurds voted overwhelmingly in a referendum on independence from the rest of the country. Just like the Iraqi government in Baghdad, Turkey rejects an independent Kurdish state.
Turkey will not surrender to the United States, according to Erdogan. Due to the conflict between the US and Turkey, the Turkish lira went down. "We will not capitulate to those who proffer themselves as our imperative partner, while they are doing their best to make us a strategic target," Erdogan said.
"Some people think they can threaten us with the economy, the sanctions, the exchange rates, the interest rates and the inflation." We have shown your intrigues and challenged you. "
"We are determined to remove at all costs the threats against our country, especially from Syria and Turkey," says Erdogan at the party congress, where changes will be made to the party summit. The rescheduling is preparing for the upcoming local elections in March next year. Erdogan is expected to be re-elected as chairman of the party.
Ankara and Washington, allies within NATO, are going through a diplomatic crisis. The house arrest of an American pastor in Turkey is the centre of the conflict. The US demands its release.
Ankara has had soldiers in northern Syria for two years to counter the YPG expansion. The Turkish army carried out the air attacks on bases of the PKK in the north of Iraq in recent months.