The Best Settings for Your Display in Windows 10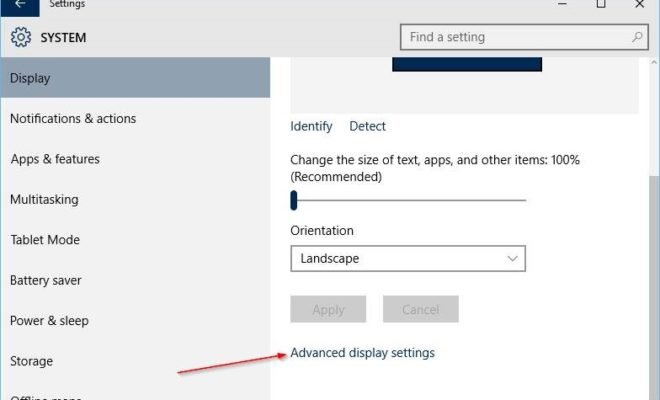 In Windows 10 there are some extra settings for your screen that you can run after. This way you can effortlessly adjust the size of icons and Windows elements to your eyes. Also, the rendering of text is easy to optimize.
Step 1: Resolution
The basis of an optimal display setting is choosing the right resolution. Each display has only one optimal resolution setting. If you do not set the resolution correctly, your screen may blur the images. Go to Start / Settings / System / Display / Advanced display settings. With Resolution, you can see the current settings. The setting that fits your screen has the added value Recommended. Check this and adjust it if necessary.
Step 2: 'DPI Scaling'
'DPI scaling' is a less known institution. A wrong setting gives strange effects. For example, your icons seem too big or are illegibly small. Go to Control Panel / Appearance and Personalization / Display and click Set custom scaling level. The best setting is 100%, but if you have bad eyes, you can scale this up to 125%, 150%, 200% or higher. Everything in Windows gets bigger with this adjustment (or smaller when you switch back to 100%).
An incorrect setting with 'DPI scaling' can cause icons to be shown too small (or too large).
Step 3: Colors and Text
With special hardware, you can calibrate your screen optimally, but this will be too good for most people. Windows also has its own calibration options. Go to Start / Settings / System / Display / Advanced display settings / Calibrate display colors. Wizard guides you step by step to the ideal settings for your monitor.
You can always rerun the wizard if it later appears that you do not like the end result. Finally, there is the optimization of the readability of text. You can adjust this in the Advanced display settings. Click ClearType text and run through the wizard. Windows always show a piece of text and let you choose which one you think is best readable. In this way, the text becomes much more readable, and you benefit from it daily while surfing the internet and e-mailing. In addition to scaling the whole screen, you can also only increase the font size of the title bar of each program.
Windows 10 is most exciting program introduced by Microsoft ever, if you are still with your old version of windows, Buy Windows 10 Pro Key today and enjoy the most out of it.